Stepping off the Palmetto, a train service that connects New York City to Savannah, I was greeted by a clear blue sky and warm sunshine.
Despite the pleasant weather, downtown Dillon was not the kind of place to offer any business hours on Sunday.
It was Super Bowl Sunday and even the bar was closed.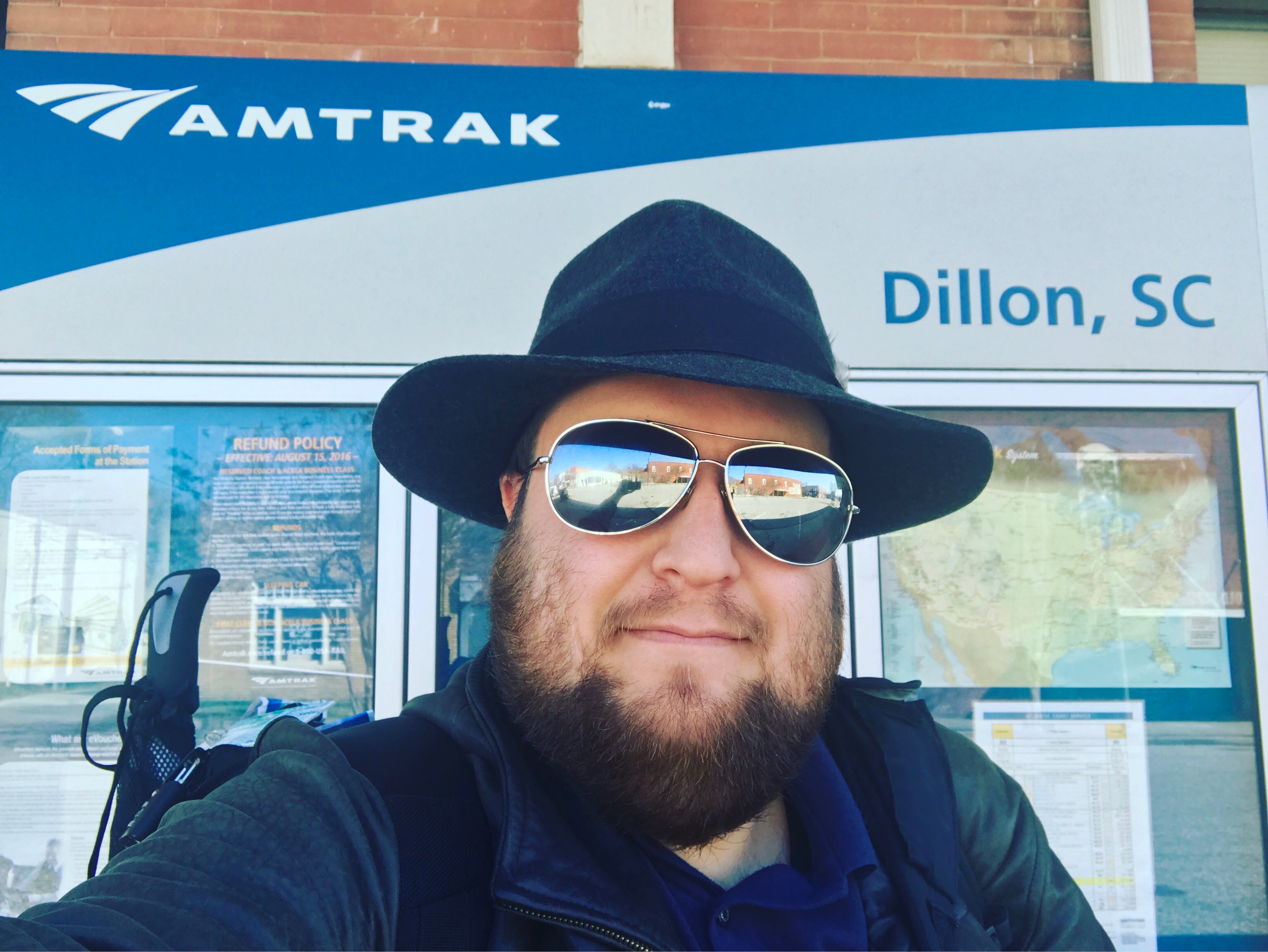 Exploring the quiet downtown revealed a depressed sight, with only half the storefronts filled.
One building was in such disrepair that a notice condemning the structure was displayed.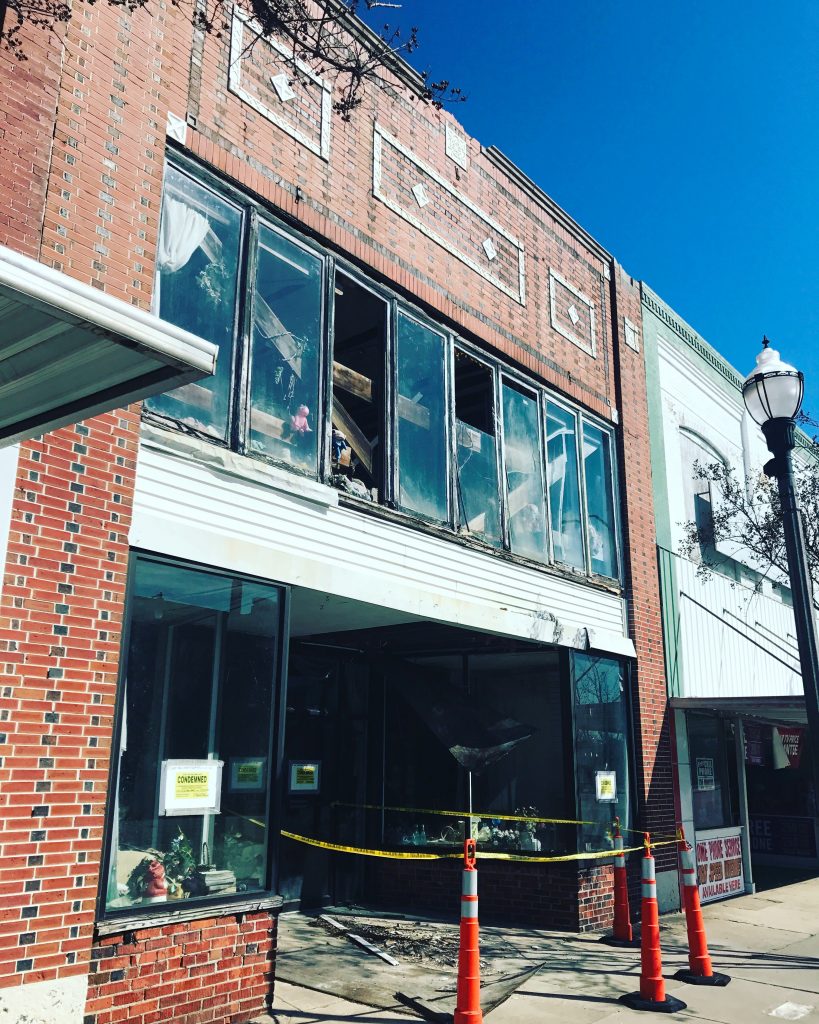 A Rough Looking Building In The Middle Of Downton Dillon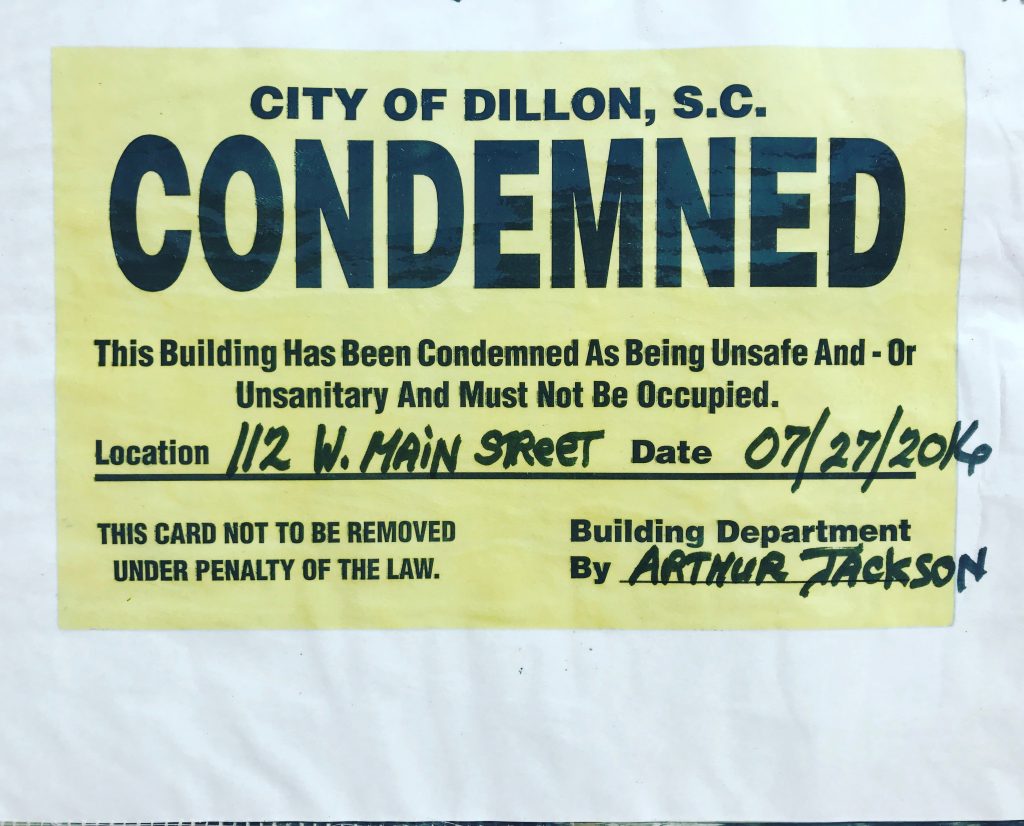 Condemned Notice
Even the town's historic marker's text was slowly fading away into the tide of history.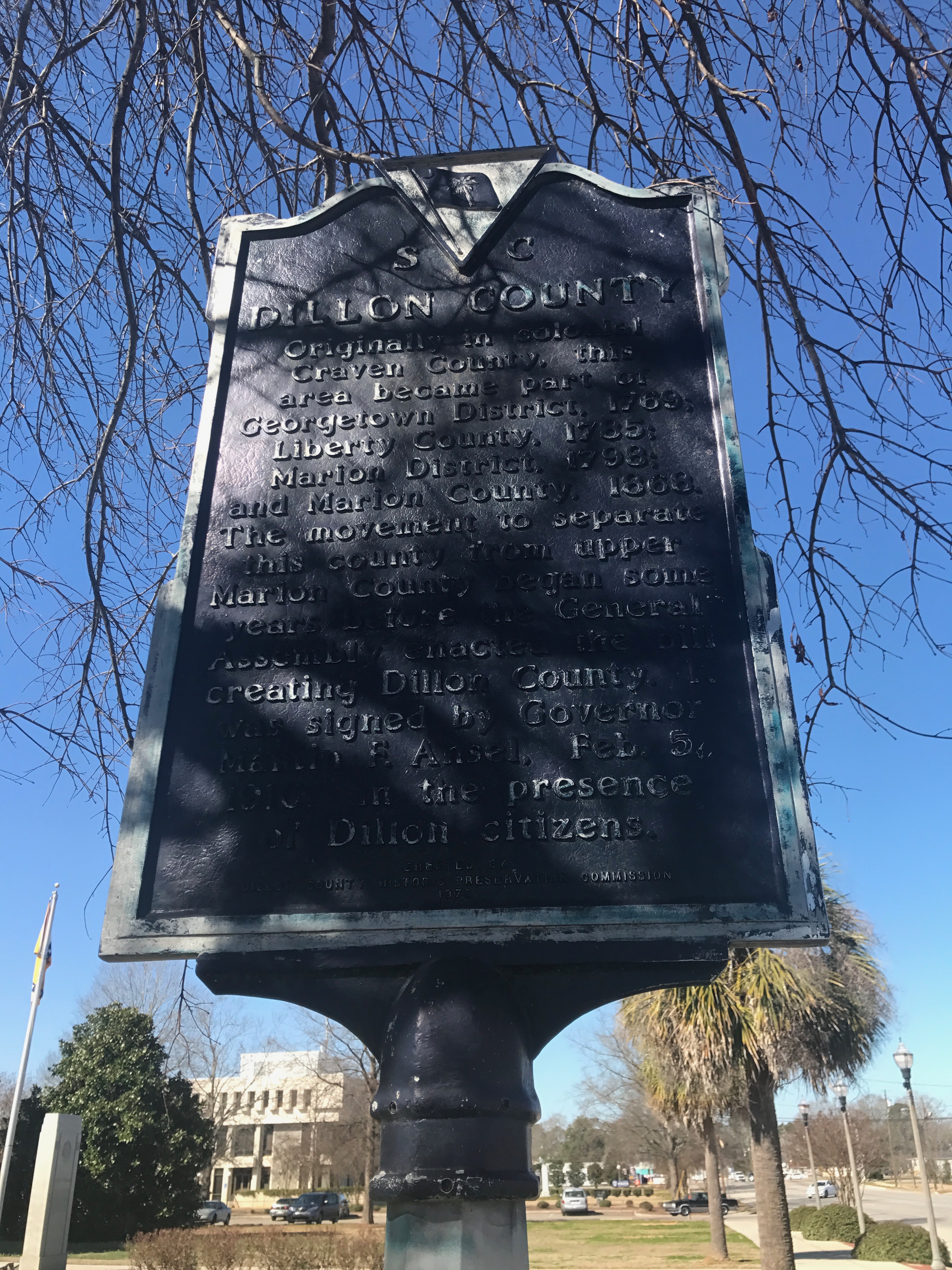 Dillon County
Originally in colonial Craven County, this area became part of the Georgetown District, 1769; Liberty County, 1785; Marion District 1868. The movement to separate this county from upper Marion County began some years before the General Assembly enacted the bill creating Dillon County. It was signed by Governor Martin F. Ansel, Feb. 5, 1910 in the presence of Dillon citizens.
A court house, a bank, a post office, a few saloons, a barbershop, an Ace Hardware Store, a clothing store, a pawnshop, and a doctor's office had held out which diffused a ghost town vibe.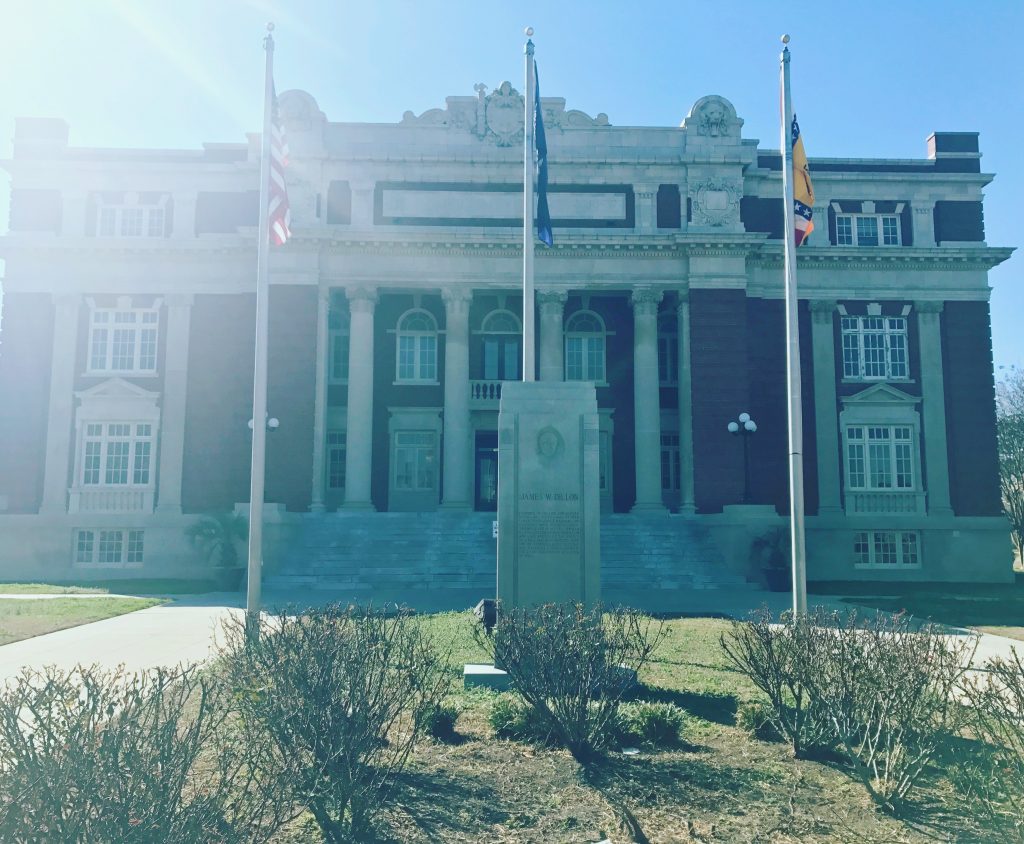 Courthouse
The granite marker in front of the court house honored James W. Dillon, the founder of the county.
His description was quite eloquent:
Founder of Dillon and father of Dillon Country. A man of firm convictions, gentle manners and generous impulses. Who loved and believed in his fellowman. A loyal citizen, a public benefactor, who gave freely of the fruits of a rich and resourceful mind for the spiritual, intellectual and material advancement of the town and county he loved so well.
There was evidence of an upswing as a "Grand Opening" sign was in front of a new business.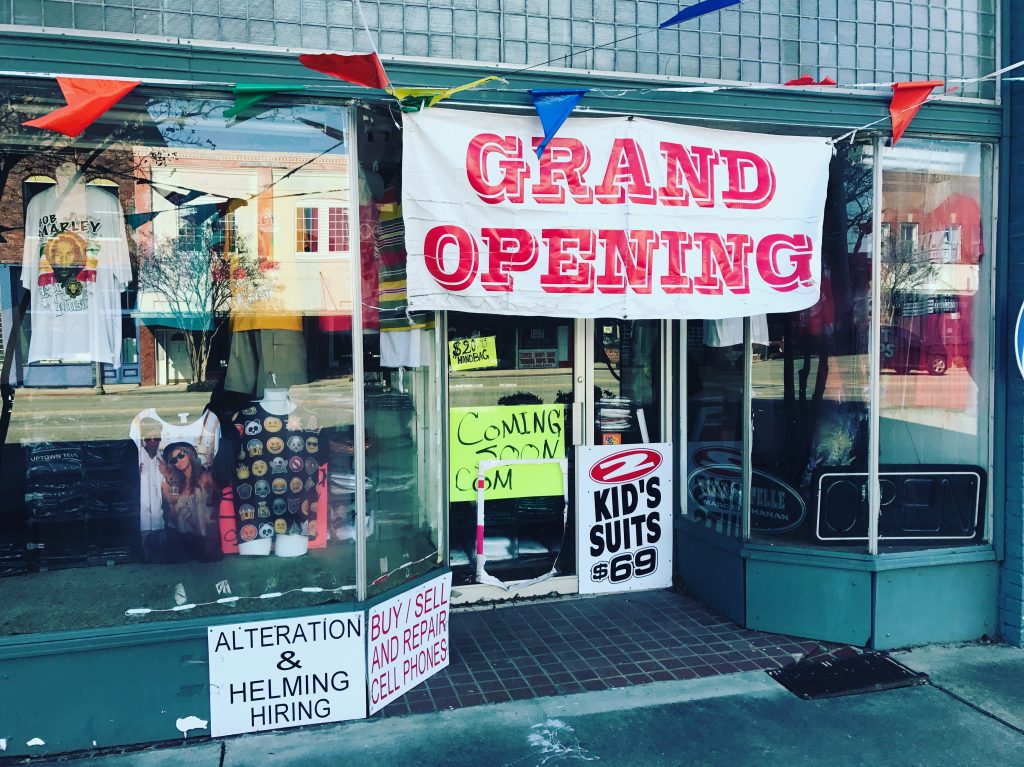 A New Business
My motel was a throwback to what I imagined was the 1970's. It included a tube style TV, which gave my Super Bowl viewing a retro quality. At least it was clean.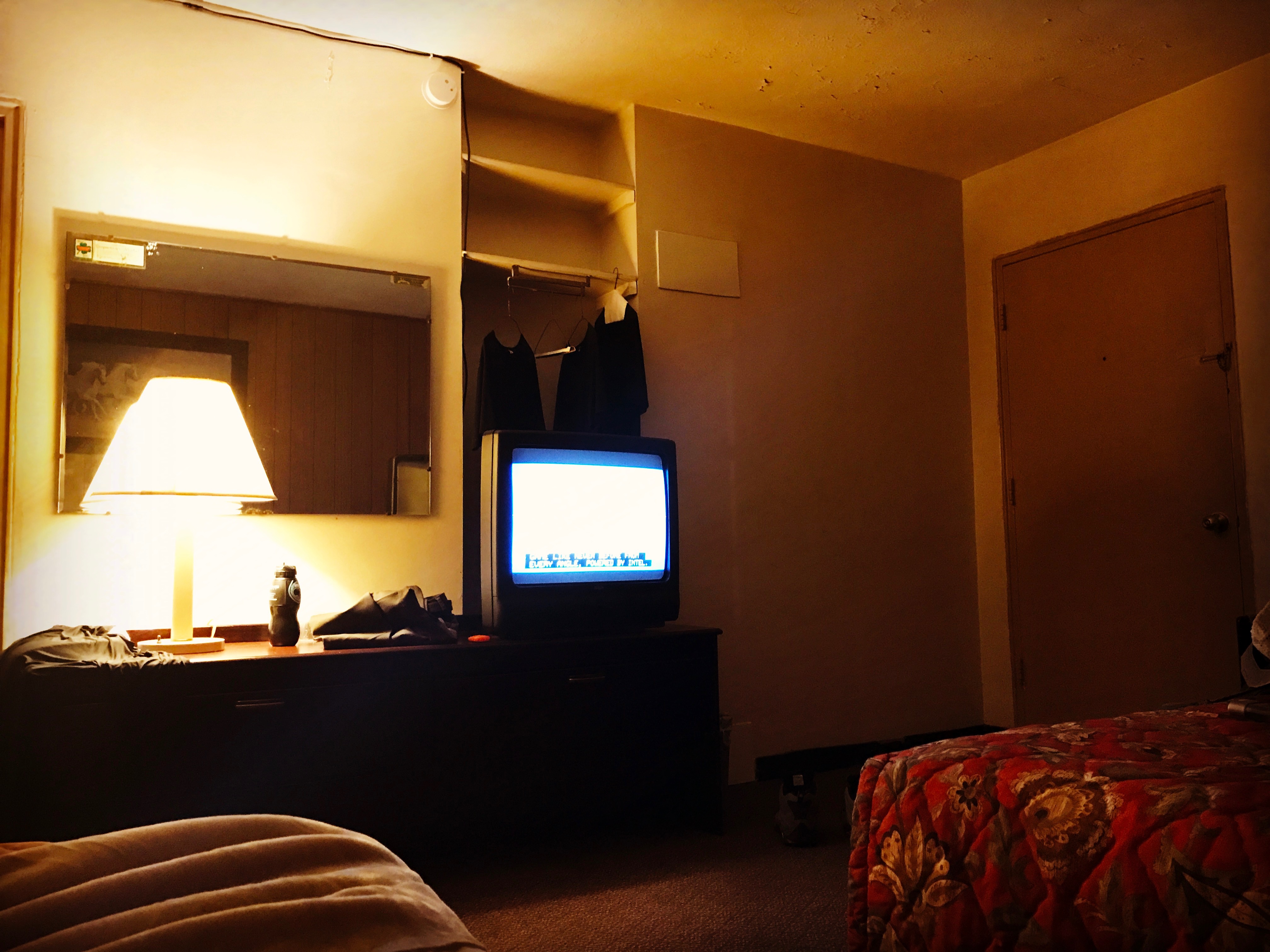 The Budweiser Super Bowl commercial about one of the founders being an immigrant inspired me to go the gas station across the street to pick up the beer in support of the message.
Sadly, I was denied my Budweiser. It turned out there were no Sunday beer sales in Dillon County. No wonder the big government was unpopular down here…despite the religious influence on the regulation.
The next day I originally intended to visit South of The Border, a sort of attraction that included a motel, gas station, dilapidated amusement park, and mini-golf. I remembered seeing the signs for it on interstate 95 on previous travels.
Sadly, transportation arrangements to the outskirts of town where South of The Border resided proved unworkable.
Instead, I ventured into a barbershop to clean up my scruffy appearance.
"Good morning, do you have any appointments available today?" I asked.
Both the barber and the gentlemen he was occupied with seemed startled. Their faces tensed as they eyed me up and down silently. I was unsure what blunder I had just committed. Had I disrupted some deep conversation of theirs? Maybe my fedora hat gave them the wrong impression.
"No appointments. Walk-ins only," replied the barber, an older gentleman with gray slicked back hair and Southern accent.
"How much for a haircut and shave?"
"$18."
"Okay great."
The barber continued on with his previous client, now in silence.
After a few minutes of feeling out of place, I decided to engage them.
"Quiet town you guys have here. Nothing even open on Sunday in downtown."
"It wasn't always this way," answered the man in the barber's seat, also with a Southern accent. His thinning hair and creased forehead gave a sense of someone who spent their career working a trade.
"There used to be textile mills here."
"Are there any left?" I asked.
"No, most everything left. There are few jobs to go around. However, Trump says he is going to bring jobs back."
"Do you think he will?"
"Says he is going to and I believe him. He is a wildcat that Trump."
The barber then chimed in with, "He says he is going to build a wall too. That Trump sure has a lot of feathers."
The gentleman interrupted saying, "I support anyone that comes to improve their lot. But we need to be careful who we let in and watch out for those who come here for welfare."
"Did most people in Dillon vote Trump?" I asked them.
"Yes, the only thing Obama brought to Dillon was cell phones. That only helped the drug dealers."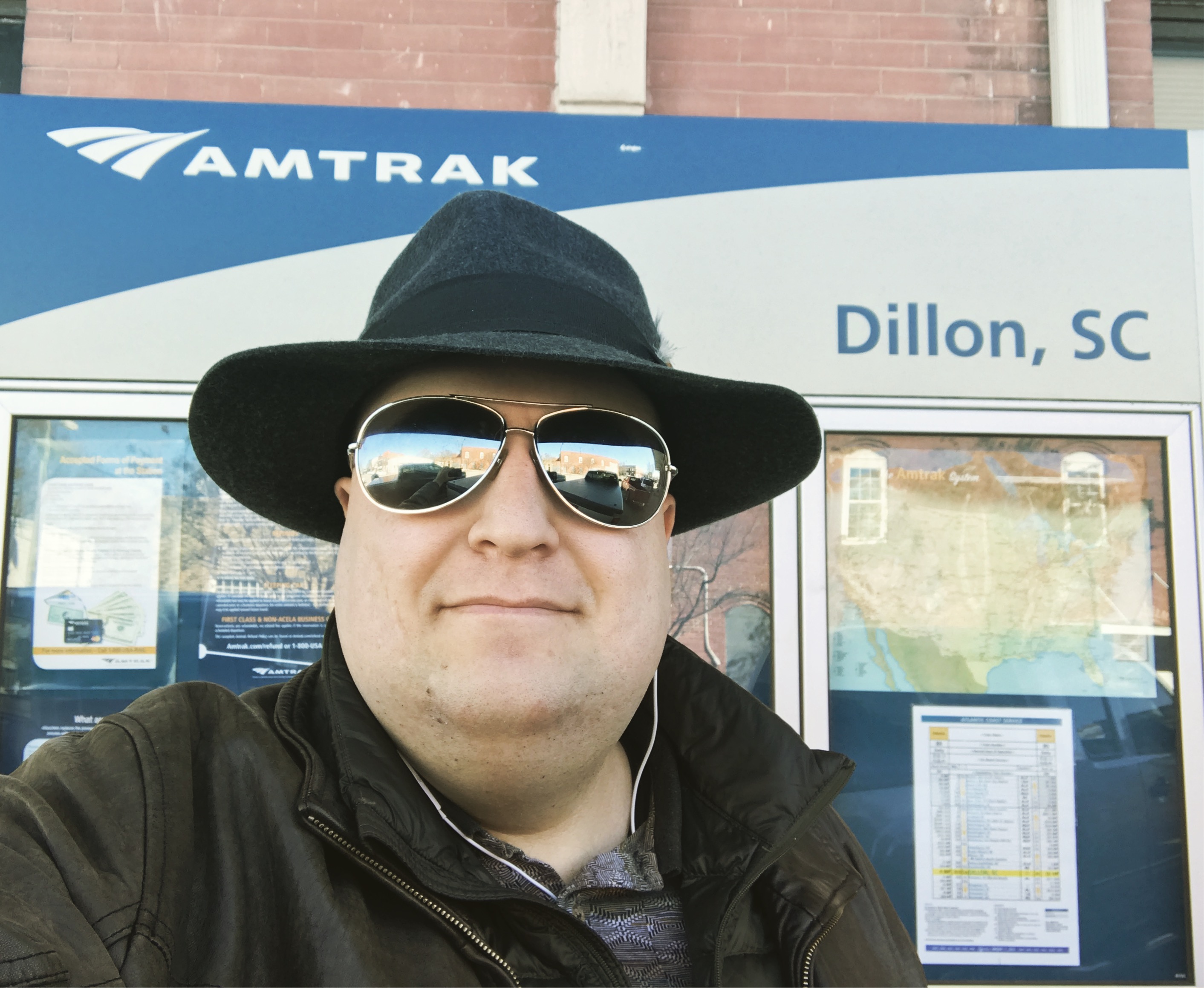 It was then my turn in the chair where the barber chatted with me about my travels.
He apologized for the cold welcome saying my accent caught him off guard.
"My accent?" I mused to myself.
// Oliver – Day 37 – Dillon